'Chessboard. The final frontier of your thoughts. These are the voyages with SuperPro Database, continuing its mission to explore strange, new positions, seeking for players and novelties to boldly play a move that no one has played before...'
Instead of books, journals the chess galaxy is presented move-by-move from CD-ROM, by this new state-of-the-art chess-informatics!
SuperPro 3.7 Chess Expert & Database System...
... with database CD-ROM December 2010, 11 200 000 lines/games!

Minimal system requirements - maximal speed (written in assembly)
It is not necessary to know openings by name or code (key) in order to use SuperPro
Easy to use: e.g. all games and analyses can be 'navigated' instantly using only the four direction control (arrow) keys
True 'mechanized second': can be fed by series of commands in advance, so you don't have to stay at the computer continuously and save time.

E.g. while you sleep, SuperPro can use Genius chess program to analyse the selected positions of your repertory and insert back new moves with evaluation
This Expert System is not only for experts, but...

... for those amateur tournament players with limited preparation time, who want to keep up with the 'pros'.
... for children and junior chessplayers learning and preparing to be promoted rapidly on tournaments.
... and for every chess enthusiast to access complete chess resources.
---
Purchase

The new features of SuperPro 3.7 printed with red and bold letters



Works in DOS and any Windows environment, uses Windows clipboard
Games & lines are stored in expandable & regroupable tree-structure (no doubles!), with on-line graphical and by-search statistics.
Alternative moves can be sorted by proportional statistics.
Search for a player and his/her opening practice tree and success records could be observed immediately.
Use your own repertory as a 'tree filter' to discover the expected opening against any potential opponent.
All important information can be watched on the screen simultanously.
Option for accent and differently written name recognition.
Simplified use: e.g. enter names after starting 'Search for black' command in User menu, and it searches at once. More than two dozens of similar simple commands help the user.
Positional-, endgame- and maneuver search (can be combined freely), heuristics for general sac- and mate search.
ELO rating list handling, identification of both white and black, ELO average and expectation calculator.
Solves accent and language name version problems.
Game search for max. 750 players at once (!)
Automatically inserts analysis of your selected positions by Genius chess program, as an external expert. Analyzed moves would be inserted into the database with evaluating symbols (+-, =, etc). Each move of all games can be analysed without supervision.
Tele-chess: playing, analysing, searching via phone (modem) or serial cable between computers.
ChessBase- and PGN-type database handling with annotations (search, import and export).
Creativity (by macros): use and create your User commands to solve any complex tasks, they can be used in batch mode, too.
Test training with time control and score, prepared test database.
Autoplay (fotoreading support), error and blunder checking.
Text output and print functions, in repertory format (Encyclopaedia-sheet), too.
Comparision of databases, move tracing at database change, reloading of prevoius database.
Rainbow Chess setting.
Creation of compact SCD from SCG database, extracting SCG from SCD, export in EPD (description of position) format.
Simplified Main database setting, transposition import and 'pseudo-double' filter.
Benchmark test of computer and search speed.
Hipertext manual (help menu), tech support.
Try DEMO version!


Selected databases on CD-ROM, the complete database contains 11 200 000 games/lines:
... elite databases: how do top GM-s play now? (both white & black repertories)
...newest games and unique old collections,
...CD-ROM database (and of course, new program) upgrades on discount prices.
... and many other features why SuperPro is the best for you!
'It has proved to be very useful, played a significant role in that our team finished as the 3rd in the last season. Using Superpro I could collect games for my team's players by 75% success rate, we could prepare for the opponents if their team's line-up was at least roughly known. To be brief, it has been a good buy...'
Szenczy Sándor, Százhalombatta
'94% of SuperPro users agree that they have got the best computer chess support by using this system.'
Dealer enquiries are also welcome!

SuperPro can also be seen in the Hungarian Chess Federation
The developers of SuperPro are waiting for your notes, ideas about SuperPro and accessories!
More information, messages, orders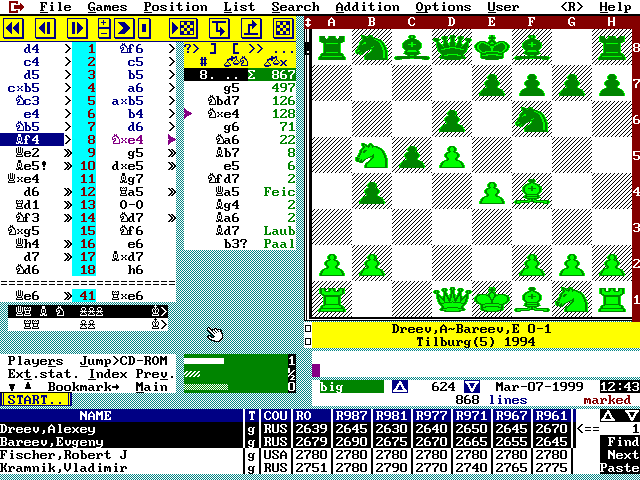 Thank you for visiting our site!