Selected online resources for the study of medieval wall paintings

A growing number of website provide access to thousands of images of medieval art. The following overview concentrates on websites where access is free to images of medieval wall-paintings.

Of related interest: IMAGING DOGMA, PICTURING BELIEF - Late-Medieval Mural Painting in Parish Churches across Europe. Conference at the Courtauld Institute of Art, London. 6-7 November, 2009.

Central Europe (Germany, Austria, Czech Republik, Slovakia, Hungary, etc.)

REALonline - A digital image-server. A database of medieval images compiled by the Institut für Realienkunde des Mittelalters und der frühen Neuzeit (Krems) of the Austrian Academy of Sciences.

The database is indexed several ways, it contains images of wall-paintings, altarpieces as well as everyday objects. Search based on location is possible. High-resolution images can be ordered for further use.

Example:
Crucifixion, beg. of 14th century

Dravce, Slovakia (formerly Szepesdaróc)
FARBDIAARCHIV - A collection of archival color photos of wall paintings and ceiling decorations from Germany, Austria, Poland, Bohemia. Photos taken between 1943-45. The collection was made available online by the Photo Collection of the Zentralinstitut für Kunsgeschichte, Munich. Searchable in many ways.
Example:
| | |
| --- | --- |
| | Detail from the medieval wall-decoration of the Wenceslas chapel. Prague, St. Veit. c. 1372. |
BILDINDEX - Bildarchiv Foto Marburg
With about 2 million images, this is the largest single image collection available online. It contains images of every period, and not only from Germany, but from other countries as well. Apart from a large collection of prewar images, it also contains newer photos as well. If you are looking for a specific location, this is worth a try. Images can be ordered.
Example:
| | |
| --- | --- |
| | Frescoes on the north wall of the former Dominican church, Krems an der Donau, c. 1280 |
A new website provides a number of very-well done virtual visits (360° panoramas) to Transylvanian sites. The site includes several medieval churches with important fresco cycles.
History of Arts in Romania: A selection of Gothic frescoes from Transylvania and a few Byzantine frescoes
For more images of Hungarian medieval churches, see my page on chief works of Hungarian medieval art.
GERMANY
WAND- UND DECKENMALEREI IN LÜBECKER HÄUSERN 1300 BIS 1800
Database of all currently known wall and ceiling paintings from about 400 town houses in Lübeck, from the period from around 1300 until around 1800.
DENMARK
KALKMALERIER - A database of Danish medieval wall paintings
Full database with thousands of images. Zooming in only works for subscribers.
Example:
The Deadly sins from the church of Birkerød,
Roskilde diocese, c. 1325 - 1350

The Mills-Kronborg Collection of Danish Church Wall Paintings
Made available by the Index of Christian Art, Princeton
Example:
The Deadly sins from the church of Birkerød,
Roskilde diocese, c. 1325 - 1350
Church Wall paintings in Denmark, fullscreen panoramas
Example:
Gjerrild, wall-paintings.
Panorama will open up in a separate window.
ENGLAND
MEDIEVAL WALL PAINTING IN THE ENGLISH PARISH CHURCH
A developing catalogue, maintained by Anne Marshall
Example:
Saint Christopher at Pickering

15th century
Medieval Wall Paintings in English and Welsh Churches
A site by Roger Rosewell, author of a new book on this topic.
Seven Deadly Sins and Seven Corporal Works of Mercy
A searchable database of British wall paintings (University of Leicester).
Example:
| | |
| --- | --- |
| | Good man surrounded by the Seven Corporal Works of Mercy. West wall, Trotton, Sussex |
Consisting of Suffolk Churches and Norfolk Churches, a growing collection of photos of medieval churches, including many images of wall paintings as well.
Example:
| | |
| --- | --- |
| | Devil at St Mary, Harkstead, Suffolk |
There is also a Flickr group dedicated to English Medieval Wall Paintings, with many good photographs.
Our churches - Information on wall paintings on the website of The Churches Conservation Trust
Information on 341 historic churches - there are wall paintings in over 80 of them
Example:
| | |
| --- | --- |
| | St.Mary's Church, Moulton, Norwich, Norfolk |
BELGIUM
Institut Royal du Patrimoine Artistique/Koninklijk Instituut voor het Kunstpatrimonium (Royal Institute for the Study and Conservation of Belgium's Artistic Heritage)
The online photo library contains several images of painted churches (enter 'fresco' as technique in your search)
Example:
Sint-Huibrechts-Hern
Frescoes of the life of St. Hubert
from 1260 to 1290
FRANCE
This rich website also includes a large number of photos of Romanesque wall-paintings.
Example:
| | |
| --- | --- |
| | Figure of a knight from Areines |
Medieval wall-paintings in the south of France
Material from a CD-ROM, with several images of the fresco-decoration of small chapels.
Example:
Sanctuary Notre-Dame des Fontaines,
La Brigue
Cycle of Christ's Passion: Saint Peter's denial
Information and images of wall paintings in France. The site does not fully function, several links are broken.
Example:
Saint-Lizier, cathedral (Ariege, Midi Pyr

é

nnées)
Visitation
Murals of the XIIIth to XVIIth century in France and elsewhere
Bilingual website, maintained by Yves Impens
Example:
Brinay, St. Aignan
Nativity
FRANCE/ITALY -ALPINE REGION
PREALP - Peintures des Régions Alpines
Database of medieval wall paintings (1200-1530/40) preserved in churches and secular buildings of the Alps.
Example:
Maiestas Domini


Cunaccia di Fervento, cappella della Madonna del Ponte, 1462
ITALY
This commercial image library offers the best selection of images of Italian fresco cycles. Digital images can be ordered for further use. Search by the name of the painter or by location.
Alternatively, you can use the Italian site of Scala archives.
Example:
Giotto di Bondone:

Examination of the Stigmata (or death) of St. Francis.
Cappella Bardi, S. Croce, Florence
Interactive overview of the frescoes of S. Francesco, Assisi: Guide to the Basilica
The website Haltadefinizione.com now includes a virtual tour of Giotto's Paduan Capella degli Scrovegni.
CATALONIA
ARS PICTA - Analysis and Research on Late Antique and Medieval Painting and Iconography
Website of the documentation center for Catalan Romanesque painting, with database and images.
Example: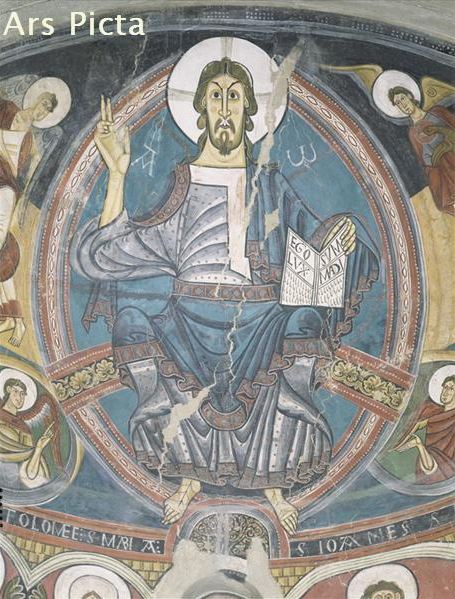 Sant Climent de Taüll. Central apsis, Christ in Majesty

Museu Nacional d'Art de Catalunya
Medieval wall paintings in the Middle East